Louisiana Art and Science Museum's In Empathy We Trust Exhibit Challenges Viewers to Rethink Their Assumptions
Familiar paintings from throughout art history are reimagined in a highly creative format in the exhibition In Empathy We Trust.
Sixteen iconic works that viewers will recognize are photographically recreated with new subjects from different genders and ethnicities. The exhibit is open through October at the Louisiana Art and Science Museum.
The playful yet moving pieces are part of an ongoing series from E2, artist duo Elizabeth Kleinveld and EPaul Julien, and aim to make viewers think twice about preconceived notions when looking at art and live their daily lives.
"It's about reimagining history and changing expectations," says Beth Welch, LASM's acting assistant curator. "For the most part, in historical paintings, you would see women and men who are generally white and portrayed in traditional roles, and it changes that dynamic."
Viewers will recognize new renditions of Vermeer's "Girl with a Pearl Earring", Whistler's "Mother" ("Arrangement in Gray and Black No. 1"), Emanuel Leutze's "Washington Crossing the Delaware" and one self-portraits of Frida Kahlo. The setting of each piece is recreated with striking similarity, with new takes on subjects.
Kleinveld, an artist and photographer from New Orleans now based in Amsterdam, and Julien, a fine art photographer and mixed media artist from New Orleans, began working on the series in 2010. The two met while working on the traveling exhibit and book project, Before (during) after: Louisiana photographers react to Hurricane Katrina. Driven by their common interest in social equity, Kleinveld and Julien create In empathy we trustan ongoing series that has traveled to multiple galleries across the country.
In a retelling of Marcus Gheeraerts' "Portrait of Elizabeth I" (known as the "Portrait of Ditchley"), the virgin queen is replaced by a black woman. In "Washington Crosses the Delaware", the all-male occupants aboard General George Washington's boat are replaced exclusively by women. And Vermeer's "The Milkmaid" is reimagined with a male subject.
Each labor-intensive job takes about six months to create, Welch says. Artists begin by constructing a physical set that mimics the setting of the original painting. E2 collaborated with the Dutch National Theatre, which provided many of the costumes, wigs and props worn by the modern subjects. They then accurately stage the living subjects and take the picture. The lighting, color and shadows are perfectly designed to mimic the original painting.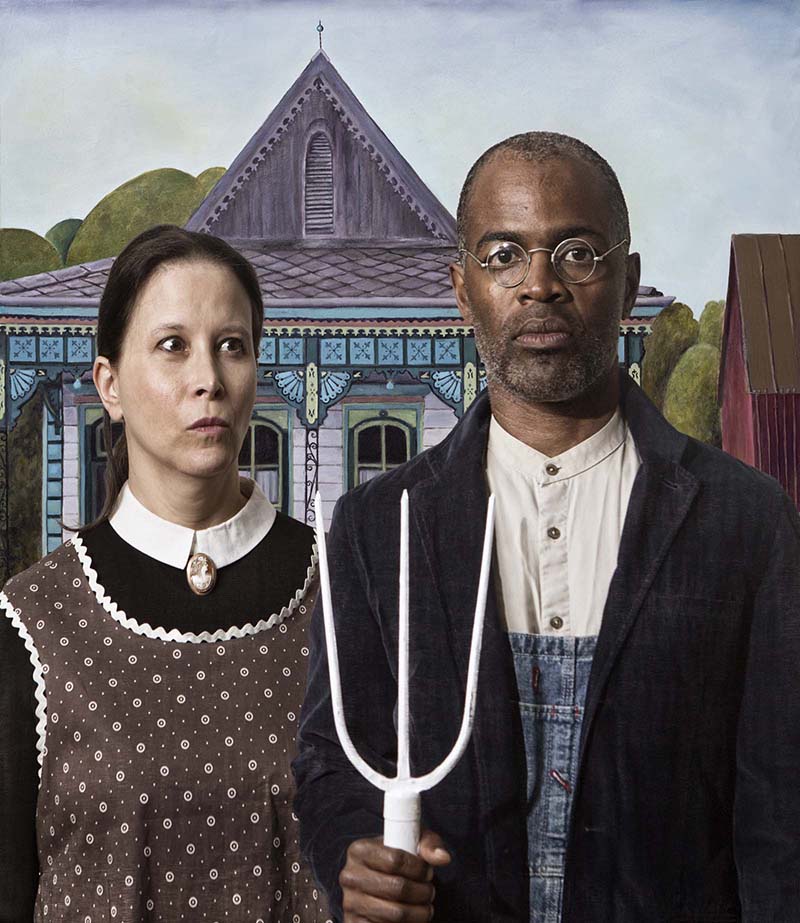 It's worth taking the time to study each piece to understand the artists' intentions, says Welch. In a modern depiction of Gheeraerts' "Portrait of Elizabeth I", a black woman is dressed as the queen. She wears an ornate white dress adorned with Tudor roses, pearls and an Elizabethan ruff framing her face. But one element is missing: the crown, symbol of imperialism. Her absence, along with the inclusion of a woman of color, asks the viewer to perhaps reimagine the British Empire and colonial power structures.
Welch says customer response has been strong. Referencing familiar original works helps the exhibit feel accessible, and E2's new twists are thought-provoking conversation starters. Viewers can read more details about E2, as well as the original paintings, through QR codes – another way the exhibit takes the artwork into the future.
IN VIEW
In empathy we trust
Sponsored by The Capital Chapter of The Links, Incorporated
Now until October 30
lasm.org
---
This article originally appeared in the July 2022 issue of 225 magazine.