'Skin: Living Armor, Evolving Identity' Exhibit Opens at Science Museum of Virginia | Brand Ave. studios
The skin, the largest and most fascinating organ in the human body, plays a vital role in all of our lives. Encompassing approximately 22 square feet of body space, the skin impacts and enhances our daily lives in more ways than meets the eye.
"Skin: Living Armor, Evolving Identity" is a fascinating new traveling exhibit at the Science Museum of Virginia that shows how skin can protect, inspire and shape identity. Kids and adults alike can put on their scientific thinking caps and dive into the world of skin that changes shape, color and reflection.
Skin Coming to Life: A View of Skin Exhibition
The best way to learn something new is to feel it and see it in real time. This exhibition offers numerous tactile experiences, unique visuals and immersive multimedia presentations that explore the anatomy of the skin. You will find that there is an almost endless amount of eye-catching facts that will change your perception of this vital organ.
From scales to feathers to fur and more, there are a wide variety of creatures across the animal kingdom with skin that has evolved to meet their specific needs. For example, some animals have armored skin to protect them from predators, while others have camouflage skin that allows them to blend in with their surroundings. From snake scales to otter fur to sharkskin, you'll be amazed at the diversity of skin and its complex range of adaptations across the animal kingdom, with unique properties even inspiring new technologies. By experiencing different skin types up close, you will gain a new appreciation for the importance of this beautiful and vital organ.
Alongside dozens of specimens of scaly and furry animals, this exhibit also turns the scientific lens on humans. Skin is an essential part of every organism's anatomy, and human skin is no different.
"Humans regenerate their entire skin composition almost every four weeks, which means about every month you have a whole new set of skin. The amount of skin that covers our body is equal to the size of a twin bed. Compare that to elephants with a mass of skin equal to 4 ½ king-size beds," said Virginia C. Ellett director of education Timshel Purdum.
"The skin is such a remarkable organ that most of us take for granted. One of my favorite skin facts mentioned in the exhibit is the existence of facial mites in the human eyebrow. Almost all humans have them and we don't even realize it. We are never alone because you always have a friend with you when dealing with dust mites!" said Purdum.
The origin of the skin: reflecting on the past to change the future
Beyond the science of skin color, the natural and ever-changing properties of skin have played a key role in shaping and shaping how humans have developed in different cultures and societies. It all starts with where humans came from and where they migrated through history.
"All humans originated in Africa and are therefore connected in some way. As humans migrated away from Africa and the equator, they were exposed to less ultraviolet light, developing lighter skin tones to absorb and retain more vitamin D," Purdum explained.
Even though we developed different skin tones based on where our ancestors migrated, all humans share the same protective and life-enhancing skin bonds.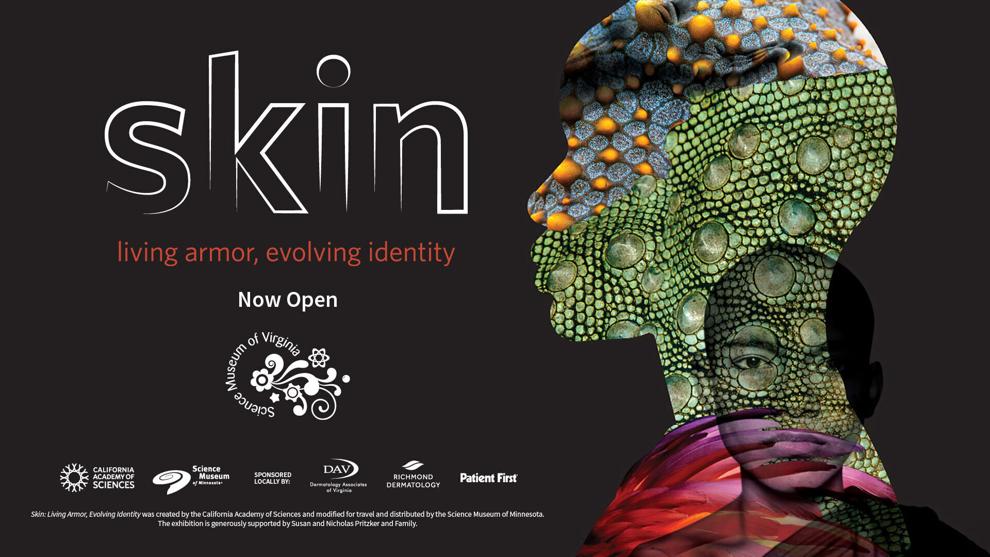 "Skin: Living Armor, Evolving Identity" is the starting point for scientific discovery and conversation. This experience celebrates the diversity of such an important, powerful and distinct organ. The aim of the exhibition is to initiate discussions about how science – and skin – have shaped our world and how we can use this knowledge to create a better future.
Looking to learn more fascinating facts about skin? Complementing this exhibit, the Science Museum of Virginia will offer skin-themed demonstrations and educational activities throughout the building and will host "Lunch Break Science" events and presentations throughout the year.
This exhibit is included with museum admission, which is $16 for adults, $13.50 for youth and seniors, and $10 for preschoolers. Children 2 and under are free.
This content was produced by Brand Ave. Studios. The News and Editorial Services played no role in its creation or dissemination. Brand Ave. Studios connects advertisers to targeted audiences through engaging content programs from concept through production and distribution. For more information, contact [email protected]